Apostle is an ambassador platform for teams. Powerful software and services to transform your colleagues into true brand ambassadors on social media. Everything you need to bring your brand to life with the social media accounts of your employees, corporate channels and relations.
In this article, you'll learn how to start using Apostle to kickstart your brand awareness.
Before you start

Apostle is a web-based application that works in most web browsers (for admins only). In addition, we provide a mobile application for regular users (your colleagues).
Please note that you agree to our

Terms of Use

when creating an Apostle workspace.
We offer various online resources to prove help and insights about our platform and its features. Check out our

Knowledge Base

if you want to learn how things work or contact our

support team
Table of contents
Set-up your account
Create your free trial account on our sign-up page. Here you'll be asked to enter your full name, phone number, email and password. We need this information to optimally set up your team and to contact you if necessary. Proceed with the sign-up by providing some basic information e.g. Goals, Strategy and Company name.
After successfully completing the set-up, you will be redirected to our platform. Here you'll find an extensive product tour that will show you all the ins and outs of the platform. This tour can also be started later by using the Get Started button at the top right of your screen.
For more in-depth information on how to create your workspace, read our article How to create your account.

---
Create your first post
We're already one step closer to experiencing the true power of Apostle. The main features of Apostle are scheduling posts for your ambassadors and gathering interesting stories from your team. You use the Apostle administrator dashboard to easily schedule ready-made social media posts for your team. We'll briefly explain which aspects of the platform you need to understand to create your first post.

Inspiration Wall
The Inspiration Wall is an overview content that has been uploaded to your dashboard via the mobile application. Your colleagues experience interesting stories in the workplace on a daily basis. Personal successes, new product launches or simply an article that they came across. They upload these stories to your dashboard with our mobile app. In turn, you'll rewrite these inputs into professional social media posts and distribute them to the rest of the team.

When you log in to the platform for the first time, you will find a dummy entry on your Inspiration Wall. Follow the steps below to create your first post:
Use the copy button to transfer the input to the

Composer. Or start with a blank post by clicking

Create new post.

Edit your message in the Composer. Use the text box to make adjustments to the post and change the images if necessary. Different types of content can be added to our composer (videos, links, images etc.). In addition, enter a

Subject. The subjects are used to track the performance of your posts.


Choose the time frame in which you schedule the post. You have two different options here:

Now

or a specific time period. For example, if you schedule between the period of one week, the platform will randomly distribute the proposed posts within this time frame to all selected ambassadors.


Select the ambassadors you want to schedule this specific post for. Also want to share this posts on one of your company pages? Then select the correct pages under the

Pages

tab.



[Optional]

Use the email feature to involve external relations in your content strategy. Enter an e-mail address in the screen below and invite this person to share this specific post in his /her network. This user only receives an email to share the message and doesn't have to create an account. Ideal for one time share promotions with relations, customers or less active colleagues.



Please note: Sharing to Facebook and Instagram is not possible by email.



[Optional]

Add an extra message for your ambassadors. For example, include some extra motivation to share a particular post or add extra information about a post to clarify the reason for sharing. This message always remains internal and is displayed in the mobile application and email above the post.


Click

Schedule

to schedule the message. In this button you will find an overview of the number of ambassadors, pages and e-mail addresses that you have entered. Always check that everything has been entered correctly before proceeding.


Tip:
Use groups to divide ambassadors into relevant groups. Try not to schedule each post for every ambassador and stay relevant. Use the
Prio
button to ensure that this specific ambassador receives the push notification or email first.
---
Invite your colleagues
At Apostle, everything revolves around cooperation with your ambassadors and your team. Therefore, immediately invite your colleagues to harness the true power of Apostle.
From your Apostle's desktop dashboard, head to the

Team

section and click on

Invite people.


In the provided space, enter the emails of all the colleagues you want to invite to Apostle to be a part of your team. To do this, simply type in their email address and press enter. Repeat this until you have added all the emails or copy paste from a .csv or excel file.


Want to personalise your invite? Use the text box below to add your own twist to the invitation email. Select 'Send Invitation' and an automated email will be sent to all your colleagues with a link to join Apostle and be a part of your team.


The automatically generated email will look similar to the one given below. Your colleagues can join Apostle by clicking

Join now

button or by pasting the given link in their web browser.


After clicking

Join now

your colleagues will be redirected to a sign-up page where they'll provide their email address, first name and last name. They'll need to fill in this information to set-up their personal profiles.


Your colleagues will now set their own personal passwords for their accounts. Select

Save and complete setup

to complete the sign-up. Now they have successfully signed up for your Apostle team and can log into Apostle's mobile app with their email and password.


Note: These users can now download the mobile app and log in with their newly created password. The app offers the best user experience, so always double check if your colleagues have downloaded the app.
---
Explore the mobile app
The mobile application is mainly developed to help the end user (your colleagues and relations). With the app, your colleagues share posts on their own social media channels and upload interesting content directly to your dashboard. As a Social Master, it is therefore important that you also know how our mobile app works. In the steps below we'll take you through the basics of our app.

You need a personal account to access the mobile app. So first invite your colleagues before they can gain access the app. The app is available for iOS and Android and can be downloaded from the Appstores.
Go to the Appstore or Playstore and search for

Apostle Connect.


Install and open the app. Then log in with your

email address

and

password.


That's it! You are now completely logged in and ready to start sharing. It is now up to the Social Master to start scheduling posts.
How do I share posts with the app?
In the steps below, we will discuss how you share messages with the mobile app. After completing the set-up, you will enter your own personal dashboard. Here you'll receive suggested posts and you're able upload content to the Social Master.
Each time your Social Master has created a new social media post for you, you will receive a push notification on your mobile phone. To check and share your post, please open the push notification or open our mobile application.

The post will open and two different options are shown:

Share

and

Delete. If you would like to share your message, choose

Share. Decide for yourself on which platform you want to share the post. Is the text not really your style? Edit the post to fit your own tone of voice. It's not possible to modify or change the attached media.

Please note: the

Edit

button appears after pressing

Share.

In some cases, the suggested post doesn't suit your network. In that case, click

Delete

and remove it from your timeline. This feedback is also sent to the Social Master. The app moves the post to the

Archive

as soon as the message has been successfully shared. This process is repeated for each new post.
Please note: When sharing to LinkedIn and Twitter, users connect their personal account to Apostle once to enable posting. This connection is made before the first post is shared.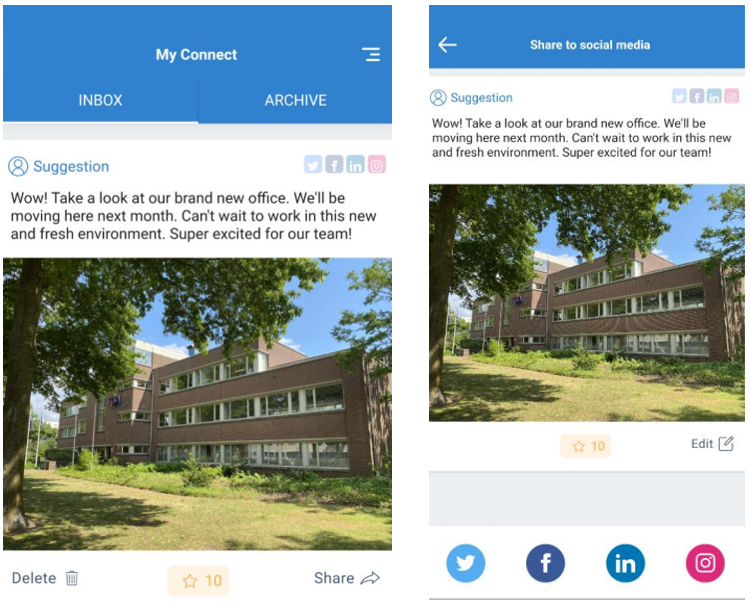 How do I upload content to the Social Master?
In addition to sharing content to personal social media accounts, the Apostle app also allows ambassadors to upload content to their Social Master. Think about the event they just went to, an interesting article they came across or a personal success that they're celebrating today. They'll upload the photo and context and the Social Master will transform the upload into a professional social media post. In turn, they will send it back for you and your colleagues to share on their personal accounts through our mobile app. This way your colleagues don't have to struggle writing that perfect social media post, but rather give the right input to your Social Master.
Open the

Apostle app

and click on the

+

sign at the bottom of the screen.


Add media and some context and press

Send. If you want to share the post directly to your own account, use the

Let's share immediately

slider.


The Social Master receives the submitted content in his administrator dashboard. They'll professionalize the post and send it back to the ambassadors to share on their personal channel.
---
Create groups
Groups are very useful to manage your users. In addition, in the composer you can filter on certain groups to only present the posts to that specific group. For example: HR might be interested in Employer Branding content, whereas Sales might rather be interested in getting product related content. That's why the distinction between groups is important within the platform to keep sharing relevant content with your ambassadors.
Go to the team overview and click

Manage groups.


Then click

Create Group

to enter the name of a new group. Click on the

+

sign to create the group.


Create the groups to your own liking and easily divide your colleagues into different groups. We advise to use departments or job titles to distinguish between your colleagues. These groups will help you target content to specific people according to their expertise.



That's it! You're all set to start sharing with your team and take your company to next level using Apostle. Good luck and happy sharing! 😀