Our mobile app offers the best experience possible for our users. We strongly advise every user to install and use our mobile app to start sharing and uploading content. Get full access to our clean interface where you can easily post, edit and upload in one go!
This article will teach you how to get started with the mobile app. In order to start this process, you'll need an invitation by your admin.
Before you start
The mobile app is available worldwide for Android (7 or higher) and iOS (11 or higher). Using older operating systems or phones might result in technical issues.
The mobile app is mainly designed for non-admin users. Admins use our

web based version

to schedule and plan content.
Please note that you agree to our Terms of Use

when creating an Apostle account.
We offer various online resources to prove help and insights about our app and its features. Check out our

Knowledge Base if you want to learn how things work or contact our support team.
Our mobile app is completely

GDPR compliant. Your privacy and security is guaranteed. All your uploads, personal information and other data will be kept confidential.


Table of contents

Signing up
In order to gain access to our mobile app, you'll need to create an account. Your admin will invite you to their team to start the onboarding process. Didn't receive an invitation? Please contact your admin first and follow these steps afterwards:
Accept the invitation that you received in your mailbox by clicking

Join now.


Next up is verifying some of your personal details. Please fill in your

First

and

Last name

in order to move on to the next step. This name will be used in your Apostle profile and will be shown to your team (you can change this later from your settings).


Create your own personal password.

Please note:

you will need this password later to login in our mobile application.


Now click

Save and complete setup

to complete the setup. This will get you registered in your Apostle team. You can now use your credentials to login to our mobile app.
Downloading and installing
After you have signed-up for Apostle, you can login to instantly access all the features of our mobile app. The mobile app is available for iOS and Android, and is downloadable through the various App stores. Please complete the following steps to get started with downloading our mobile app:
Go to the Appstore or Google Play Store and search for Apostle Connect.


Install and open the application.
Enter your email address and password you used to sign-up for Apostle in the previous step.



Please note that you might enter an empty application. In this case, your admin has not yet created a post for you to share.


Please note:
On the main screen, sometimes you'll see an
empty inbox
section. This means that your Social Master hasn't prepared a post for you to share yet. Whenever your editor does, you will be notified through a
push notification
and it will show up in your inbox.
Important:
You will always remain in control of your own accounts. Therefore, you decide whether you share, edit or delete a new suggestion in your app.
Key features
The app contains several key features that we'll explain in this section of the article. We'll address uploading and sharing content in more detail below.
Inbox
Here you'll find an overview of every new suggestion that has been made by your Social Master. Instantly share, edit or delete posts from here.
Archive
Every post that you've shared will be automatically transferred to your archive. This allows you to come back whenever you want and re-share specific posts on other platforms.
Team Connect:

On the bottom right corner, you'll see the option of Team Connect. This shows all the past activity by the rest of your team. This section displays all the shared and uploaded posts suggested by the team.

Leaderboard
The leaderboard tracks the performance of your team and will show the most active ambassadors. Gain points by sharing content and uploading new items to your Social Master. Game on! 😉


Sharing content
You officially completed the entire setup and the mobile app is ready for use. It is now up to your Social Master to start creating ready-made social media posts for you to share. In this chapter we will discuss how to share incoming posts. In addition, we will address to what extent you can influence these proposed posts.
Each time your editor has created a new social media posts for you, you will receive a push notification on your mobile phone. To check and share your post, please open the push notification or open our mobile application.


After opening our app, your post will appear at the top of your personal

Inbox. You have two different options here:

Share

and

Delete. If you like the post and want to share it directly? Press

Share

to share the post to the platform of your choice. Click the platform icons to share to that specific platform.



⚠️Important:

Please follow the instructions on the screen carefully. There are some differences in how to share to the various platforms. Check our more

in-depth article on how to share

to these platforms.

Don't like the text and want to add a personal touch? Use the edit button to transform the post to your own liking. Please note that you can only perform textual edits, and cannot edit the included media. The edit button will appear after clicking on

Share.

If the post isn't relevant for you or your network, click

Delete.

The post will not be shared to any of your accounts and will be removed from your app.
Tip: We advise to edit each post to your own personal tone of voice. This will improve your online credibility and engagement, as your network can tell you created the post yourself.
Uploading content
Next to sharing content to your own personal social media accounts, the Apostle app also offers the possibility to upload content to your Social Master. Think about the event you just went to, an interesting article you came across or a personal success that you're celebrating today. You'll upload the photo and context and your Social Master will transform your upload into a professional social media post. In turn, they will send it back for you and your colleagues to share on their personal accounts through our mobile app. This way you don't have to struggle writing that perfect social media post, but rather give the right input to your Social Master.
How does it work?
Open the Apostle app and login.
Click on the

+

icon in the bottom of the screen.
A text box will appear where you can type your content and give some context. In addition, you can add media to your post by clicking the photograph button.
[Optional] Turn on the

Let's share immediately

switch if you want to directly post this to your accounts ánd upload it to your Social Master for other colleagues to share.
Click Send to upload the post to your Social Master.
That's it! Your Social Masters will receive the input in their dashboard and will review your post. They'll soon send the updated version back for you and your colleagues to share.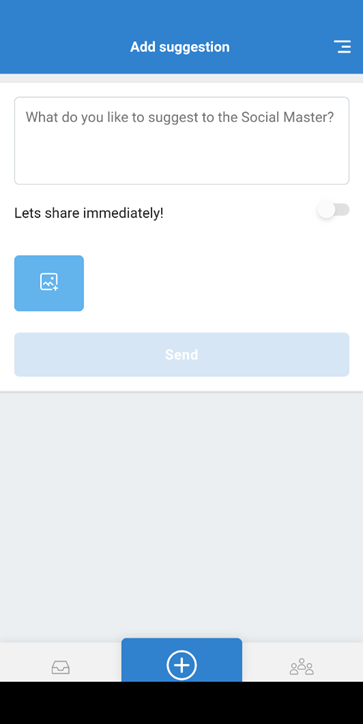 Tip:
The
Upload
feature is perfect for creating content straight from the workplace. From our experience these type of posts will greatly improve engagement and reach when posted to social media.
Support
Congratulations! You are now officially ready to start posting. If you have any more questions regarding our software, please consult the other articles in our online knowledge base. Here you'll find explanations for most basic features of our Apostle application.
If you have any further questions, don't hesitate to contact our technical support team. In the menu you'll also find a Support button, which will guide you to our support team. This email will automatically include your device information and app version. This allows us to help you in the best way possible. We're happy to help. Good luck sharing!