Apostle values effective team management and created various roles for users within the platform. These roles are based on our Social Reach Optimization method and are used to differentiate between users and their responsibilities within your ambassadors' project.
To assign roles, select Manage roles from the Team dashboard. There you'll see four basic roles of Apostle's platform.
Social Master: The admin of the platform who manages the whole team, writes/rewrites content and schedules and shares posts to ambassadors (Please note: there can be multiple Social Masters).
Social Editor: They help the admin (Social Master) in creating content but also activate their team members to upload and share as much content as possible.
Social Creator:A regular team member who shares and uploads content to the Social Master. The Social Master will review and rewrite the content and schedule it for all of his ambassadors.
Social Publisher: A regular team member that only shares the scheduled content and doesn't really upload any content whatsoever. Everyone is always a Social Publisher but they can have extra roles as described above. The Social Publisher role is perfect for colleagues who are less social savvy and just want to help the company by sharing their posts.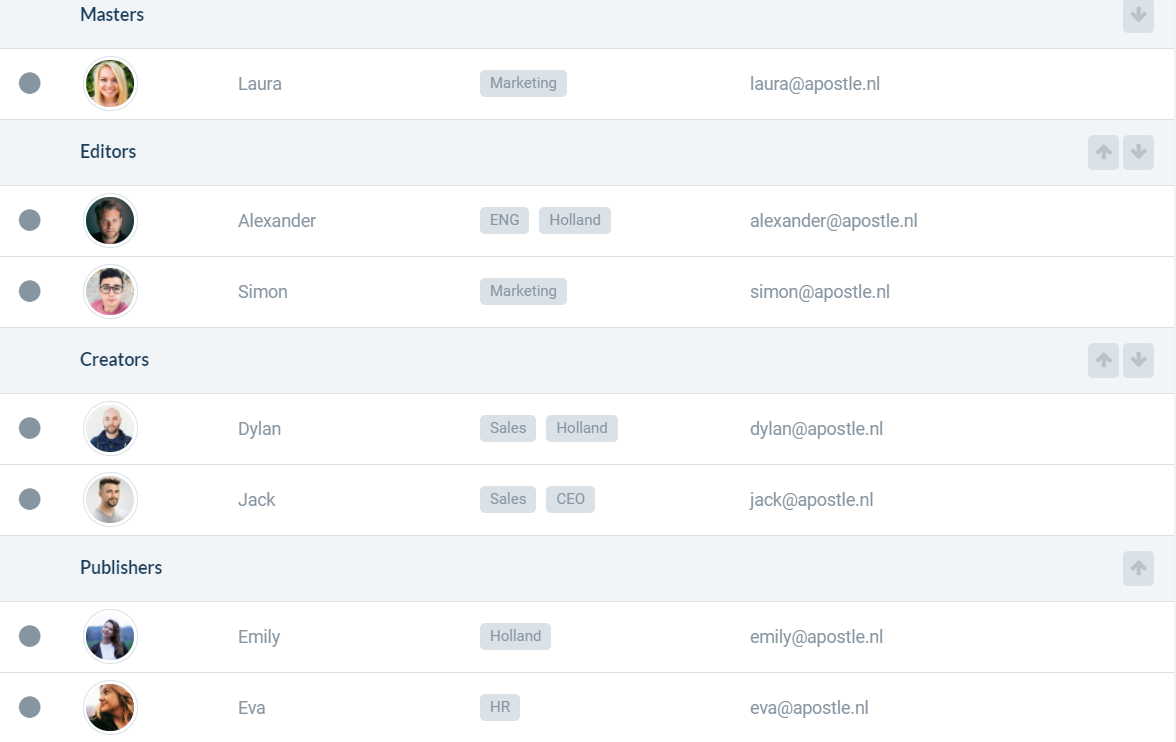 To change roles of your team members, select members and click on the arrow on the right to their current role. It will immediately move them to their new position.
Please note:
Apostle technically only has two main roles in terms of rights within the platform, which are admins (Social Master) and regular users (Editors, Creators, Publishers). Users only have limited rights while admins have complete control over the team and the platform.