If you want to make full use of Apostle and succeed in taking your company to a higher level, the most important thing is team management. Using Apostle's features in the right way is the key to an effective team management. Interacting with your ambassadors, taking their opinions, grouping them effectively, making good use of their skills and positions, using their inspirations to create better posts and content and many more.
Apostle understands the need to have full control over things and hence we always try to update features that give you detailed control. In effective team management, Apostle lets you invite your colleagues to be part of your team, categorize them into desired groups, assign them perfect roles and manage social media pages.
First, let's head to the Team section from your Apostle's dashboard and take a brief look at what each feature entails.
Table of contents
---
Invite users
The first step in team management is the creation of your team itself. You need to set-up your team in Apostle before moving on with the rest of its features.
To invite colleagues to your team, select

Invite people

from

Team

section. You'll see a similar window as shown below where you can add the emails of the colleagues you want to invite.
After entering an email, move onto next line by pressing enter to add another email. Or copy/paste directly from an excel file.
Add an optional personal message to your invitation in the text block

Invitation text.
Select

Send invitation

to send the invite to your selected colleagues.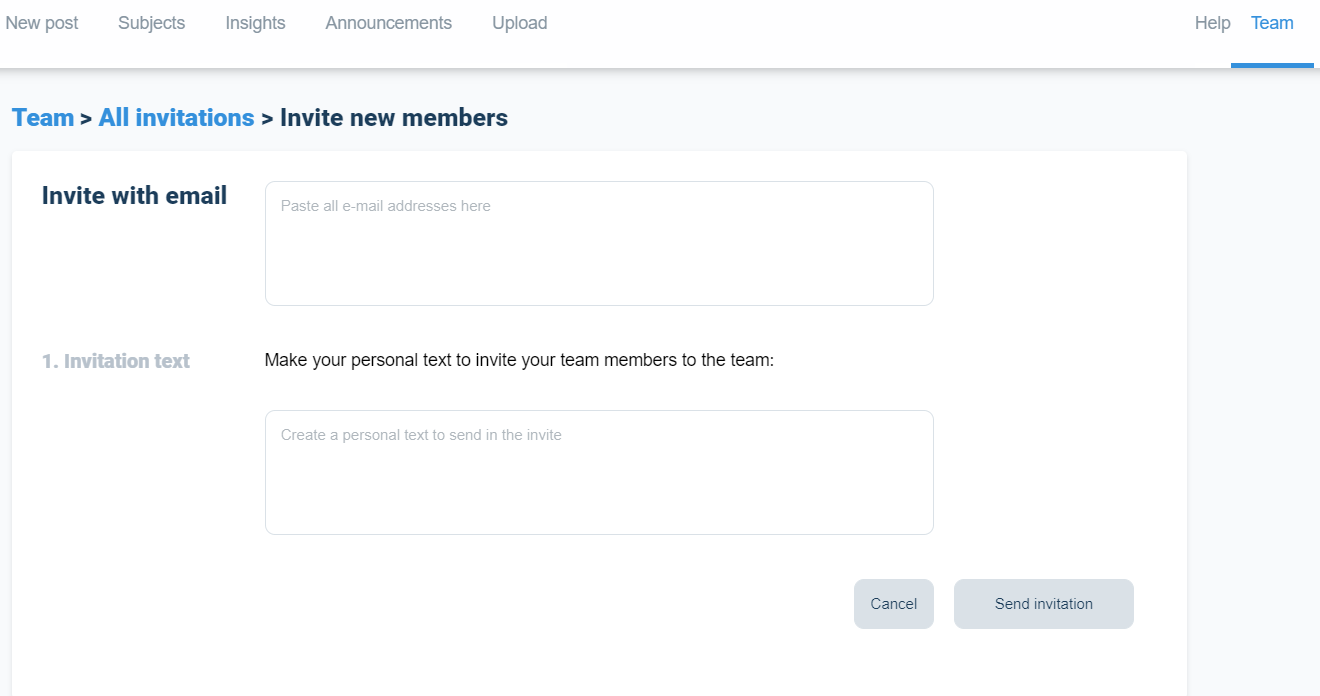 Your colleagues will receive an invitational email with a link to sign up to Apostle and be a part of your team. To know more about signing up via email, check our Getting Started article.
You'll also see an option of Pending invites in the Team overview where you can see pending invites to people who haven't accepted your invitation yet. You can select these email addresses and send them a reminder email by clicking the Notify button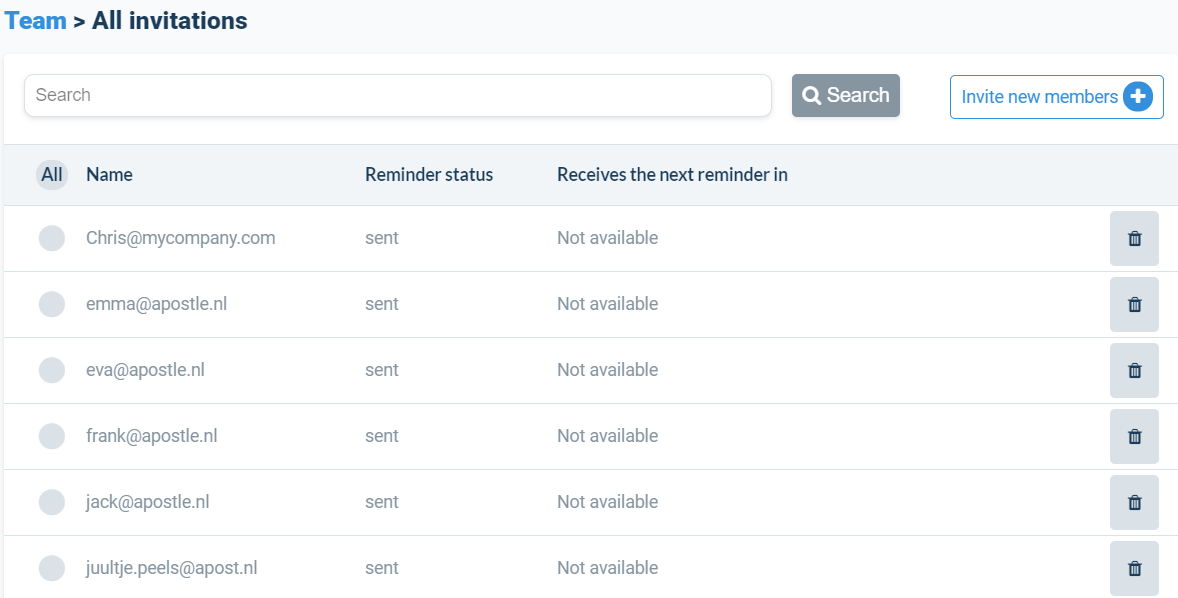 ---
Create groups
Groups are very useful to manage your users. In addition, in the composer you can filter on certain groups to only present the posts to that specific group. For example: HR might be interested in Employer Branding content, whereas Sales might be interested in getting product content.
To create groups, go to the

Team

panel and click

Manage groups. Now type name of the group you want to create in the given space and click '+'. You will successfully create a group.

Create the groups to your own liking and easily divide your colleagues into different groups. We advise to use departments or job titles to distinguish between your colleagues. These groups will help you target content to specific people according to their expertise.
---
Manage roles
Now after you have categorised your colleagues in their groups, it's time to assign them roles in Apostle. This is one of the most important part of effective team management on Apostle. These roles are based on our Social shift methodology and are used to differentiate between various users and their responsibilities within your ambassadors' project.
To assign roles, select Manage roles from the Team dashboard. There you'll see four basic roles of Apostle's platform.
Social Master: The admin of the platform who manages the whole team, writes/rewrites content and schedules and shares posts to ambassadors (Please note: there can be multiple Social Masters).
Social Editor: They help the admin (Social Master) in creating content but also activate their team members to upload and share as much content as possible.
Social Creator:A regular team member who shares and uploads content to the Social Master. The Social Master will review and rewrite the content and schedule it for all of his ambassadors.
Social Publisher: A regular team member that only shares the scheduled content and doesn't really upload any content whatsoever. Everyone is always a Social Publisher but they can have extra roles as described above. The Social Publisher role is perfect for colleagues who are less social savvy and just want to help the company by sharing their posts.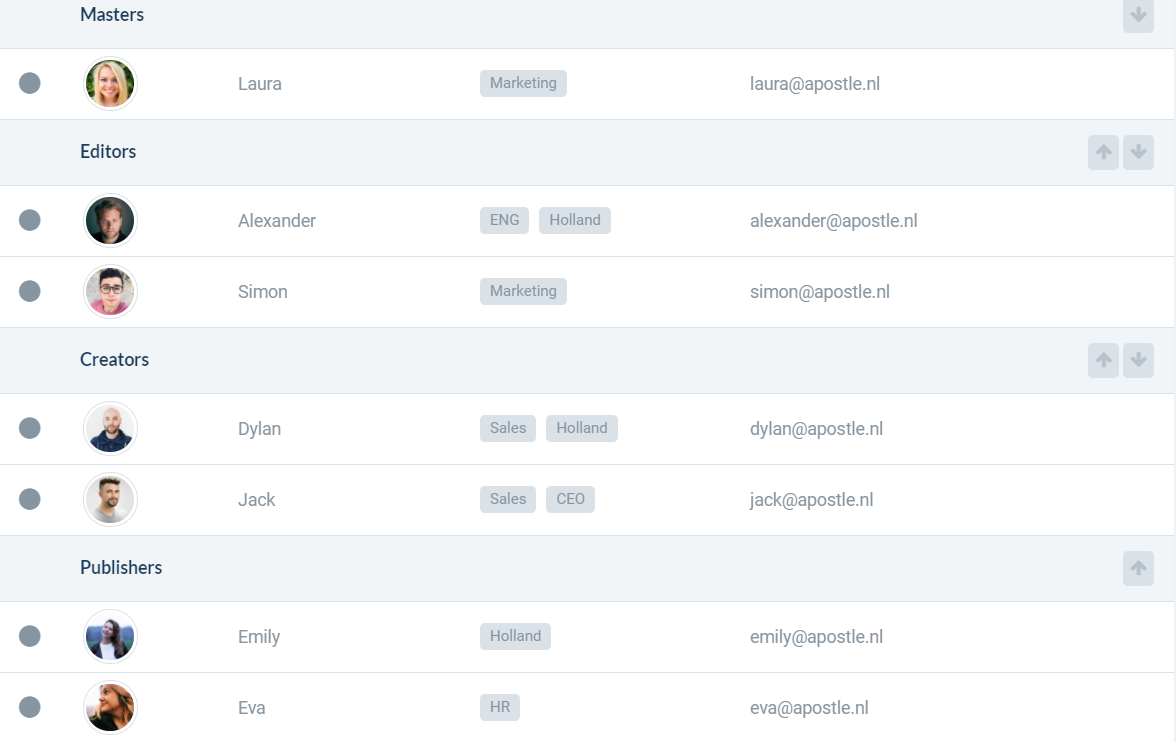 To change roles of your team members, select members and click on the arrow on the right to their current role. It will immediately move them to their new position.
Please note: Apostle technically only has two main roles in terms of rights within the platform, which are admins (Social Master) and regular users (Editors, Creators, Publishers). Users only have limited rights while admins have complete control over the team and the platform.
---
Manage pages
Corporate pages can also be added to the Apostle platform. Please note that you have to be the admin of the page to connect it to Apostle. This means that the Social Master can also schedule and plan content for the corporate pages as well as the personal pages of the ambassadors.
To add corporate pages, go to

Manage Pages

and click the add button at end of the page to link your social media page.
You will be redirected to either Facebook, LinkedIn or Twitter to login and connect your pages. Multiple pages can be connected at the same time.
After logging in and choosing the right pages, you will be redirected to Apostle and have to click

Connect

to verify the connection.
You'll find the corporate pages in the

Manage Pages

overview, as seen below.
Please note:
Connecting corporate pages on Instagram is not possible due to technical limitations. Please read our workaround on how to connect and share to Instagram pages here.

---
Email suggested
This is a list of people you have invited to share a post by email. In the composer you have the option to include ambassadors by e-mail, that aren't a regular user within the platform.
This is mainly meant for colleagues or business relations that aren't regularly sharing posts. If you type their email addresses in Suggest by e-mail block, they will receive an email with your ready-made post. In turn, they can share the post directly to their LinkedIn or Twitter page via this email. Perfect for including your clients or business relations for a one time share of your new product launch or a successful cooperation.
These relations don't need to create an account in Apostle but can just share by email by a single click. However, they do need to perform a one time login to either LinkedIn and Twitter in order to successfully share to the platforms.
Important:
Sharing to Facebook or Instagram is unfortunately not possible with the email feature. Please use our mobile application for the best experience possible.
Please find the

Suggest by email

feature in the composer as shown below. Simply add their email addresses to schedule the post for them. They will receive a similar mail as your regular users.


The email suggested list in the

Team

management is simply a list of all the people you have previously added to share by email. This saves you time to re-enter emails every time you create a new post.